2020 Incidents
Jan
88
Feb
92
Mar
98
Apr
77
May
118
Jun
106
Jul
130
Aug
136
Sep
127
Oct
110
Nov
108
Dec
132
Total
1322
2021 Incidents
Jan
109
Feb
98
Mar
137
Apr
110
May
128
Jun
Jul
Aug
Sep
Oct
Nov
Dec
Web Counters
Website Visitors
Since
August 6, 2019

Visitors Today
Jun 23, 2021

Welcome to the Official Website for Kent Island Volunteer Fire Department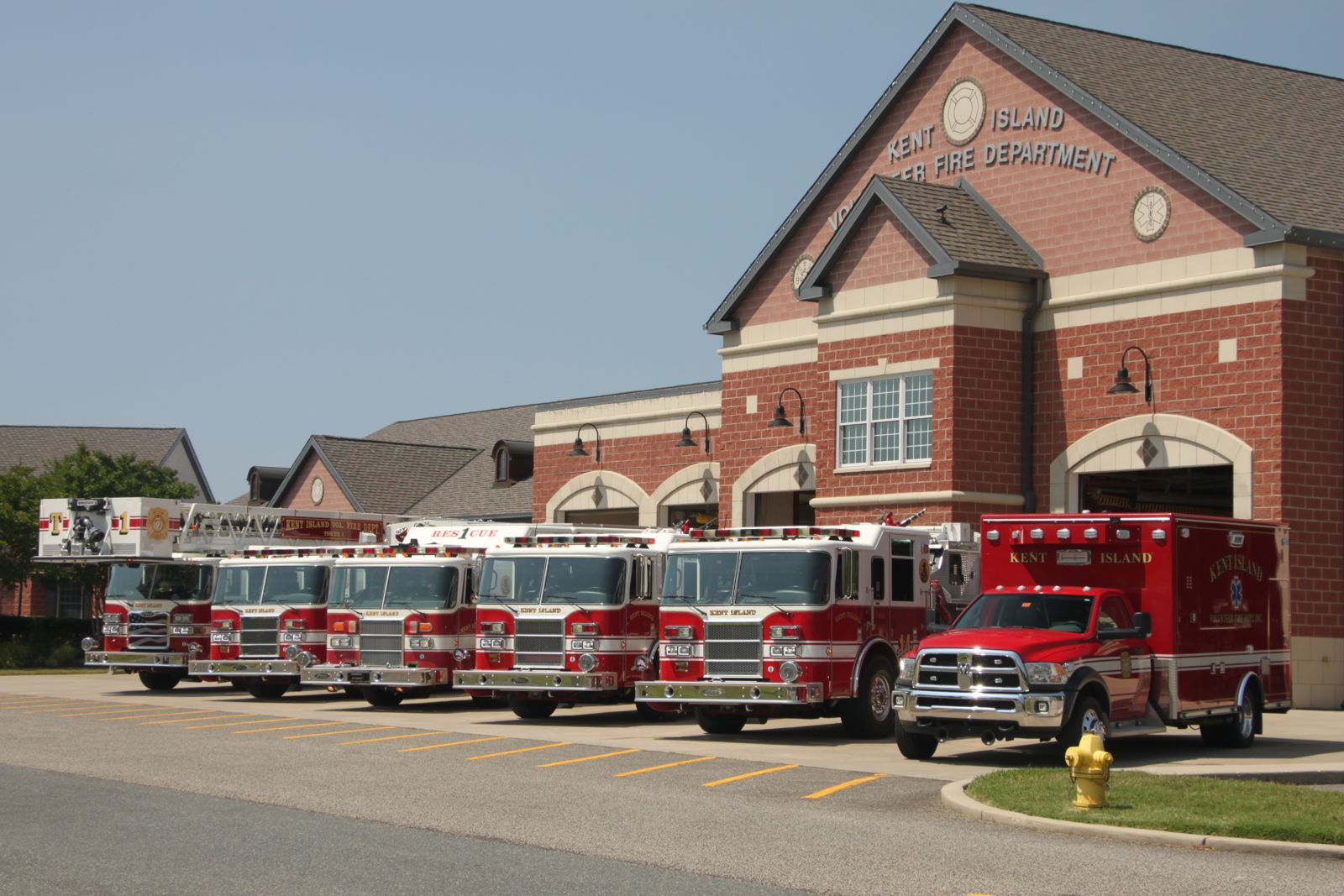 Now hiring Paramedics and EMT-B

Kent Island Volunteers, June 20

Kent Island Volunteer Fire Department is currently accepting applications for the position of Paramedic or EMT-B. This is a part-time paid position on our day staff.

To be considered for an interview, we require a minimum of two years of experience. Candidate will also be required to provide all current certifications.

For more information or to apply please email at emssupervisor1@gmail.com, (Please ... (Full Story & Photos)


Chesapeake Mom's visit the fire station

2nd. Assistant Chief Paul Schlotterbeck, June 14

On Monday June 14th the Chesapeake Mom's Club visited our fire station. The group of 50 children and 20 parents came to tour the firehouse and learn about fire prevention. The children got to meet the friendly fireman. This is a firefighter dressed in all of his fire firefighting equipment that crawls around at the children's level. This is to show children that although we may seem scary in our fire ... (Full Story & Photos)

Vehicle Fire 5-22-21

Active Member Jenn Walters, May 23

Shortly after Engine-Tanker 1 returned to the station from clearing a house fire in AACo, Station 1 was alerted for a vehicle fire in the area of Dundee Avenue and Shamrock Road. Engine 12 and Engine 14 arrived to find one pick up truck fully involved.... (Full Story & Photos)

AACO Mutual Aid 5- 22-21

Active Member Jenn Walters, May 23

Yesterday afternoon Engine-Tanker 1 was alerted mutual aid to AACo for a house in the 700blk of Rolling View Dr. First arriving units reported heavy fire in the rear of the house. Engine-Tanker 1 acted as the "Attack Tanker" and supplied water to first arriving engine companies. Fireboat 1 was alerted to assist with water supply but was not needed and returned to service shortly after arriving at ... (Full Story & Photos)


Safe fuel storage

2nd. Assistant Chief Paul Schlotterbeck, May 12

In response to rising gasoline prices, some people have taken to purchasing large quantities of fuel and are hoarding gasoline and diesel fuel. This is a very unsafe practice that can endanger you, your family, neighbors, firefighters and the environment. Gasoline and diesel fuel should only be stored in containers that are approved by a testing lab like Underwriters Laboratory (UL) and specifically ... (Full Story & Photos)



Proper way to fill container. Place container on the ground at the fuel dispenser.


Car fire on the Bay Bridge

2nd. Assistant Chief Paul Schlotterbeck, April 11

At 15:32 hrs. Kent Island VFD Units were alerted to respond mutual aid to Anne Arundel County for a vehicle fire on the eastbound span of the Bay Bridge. Anne Arundel Engine-171 was not able to access the scene due to traffic stopped behind the fire. Chief-10, Engine-14, and Engine Tanker-1 responded onto the eastbound span. Units arrived to find a passenger car well involved. The eastbound bridge ... (Full Story & Photos)


2020 Kent Island Fire Department Awards & Installation

Active Member Jenn Walters, February 24

Before our regular business meeting on February 16th, 2021 we had a small gathering at the station to award our members for their service and swear in our new officers.

The following awards were presented. Congratulations to our members.

Jim Beavers Award - Owen Long
Employee Of The Year - Bob Seitz

Chief's Award - Presented to All KIVFD Members for their amazing dedication especially throughout ... (Full Story)




Your feedback is important to us! Feel free to sign the guestbook.