2020 Incidents
Jan
88
Feb
92
Mar
98
Apr
77
May
118
Jun
106
Jul
130
Aug
136
Sep
127
Oct
110
Nov
108
Dec
132
Total
1322
2021 Incidents
Jan
109
Feb
98
Mar
137
Apr
110
May
128
Jun
126
Jul
140
Aug
149
Sep
116
Oct
106
Nov
Dec
Web Counters
Website Visitors
Since
August 6, 2019

Visitors Today
Nov 28, 2021

Welcome to the Official Website for Kent Island Volunteer Fire Department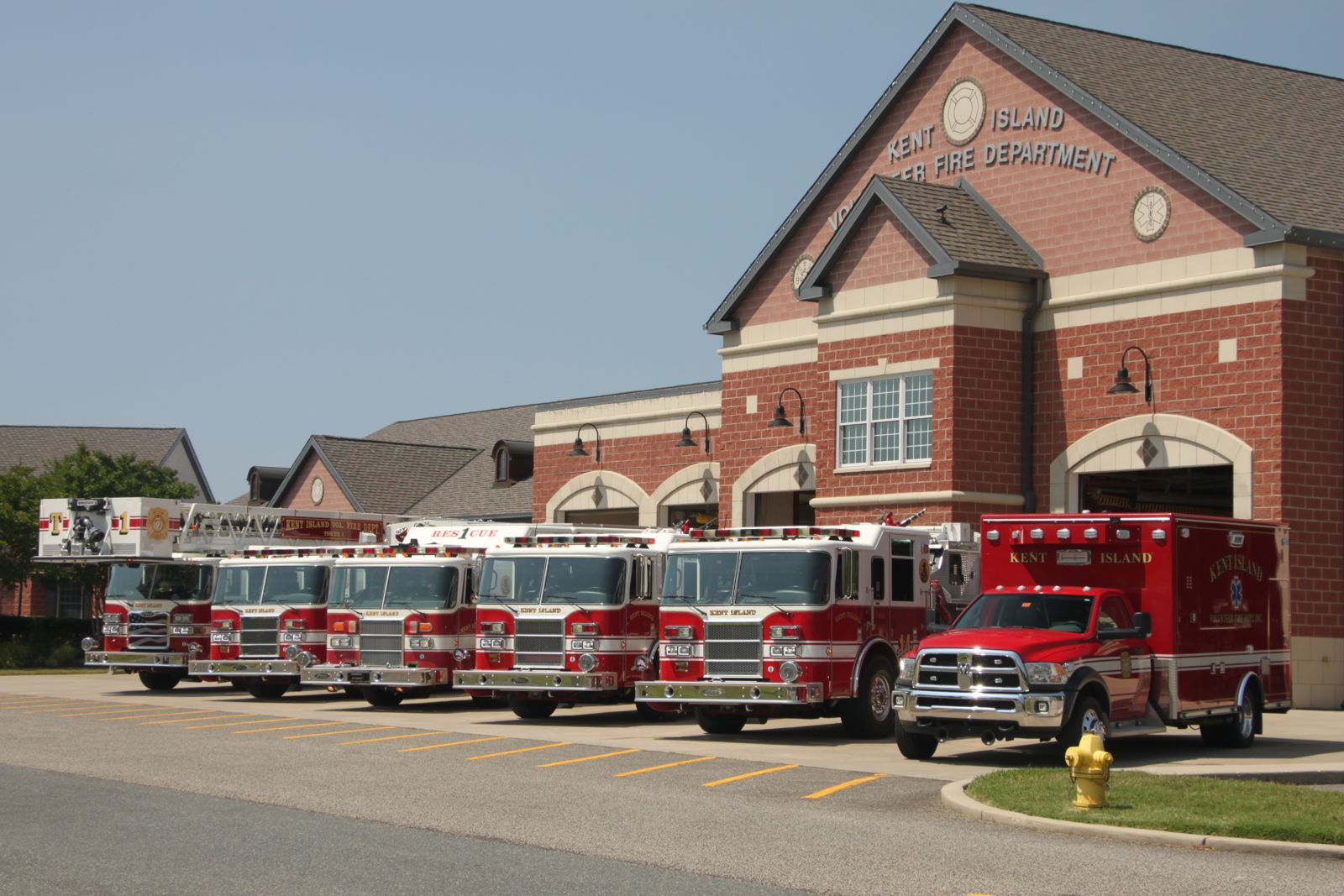 Now Hiring EMT & Paramedics

Kent Island Volunteers, October 10

Kent Island Volunteer Fire Department is currently accepting applications for the position of Paramedic and EMT. This is a part-time paid position on our day staff.

To be considered for an interview, we require a minimum of two years of experience. Candidate will also be required to provide all current certifications.

For more information please view attached Job Announcement.

To apply please email ... (Full Story & Photos)

Early Morning Crash on Route 8

2nd. Assistant Chief Paul Schlotterbeck, November 16

Just after 1 AM KIVFD and QA DES units were alerted for an MVC with reported entrapment. Ambulance 1, Rescue 1, Engine 14 and Chief -1 responded. The vehicle left the roadway and struck several trees. First arriving police units found the driver in the vehicle which was smoking. Police officers quickly removed the subject from the vehicle. The driver was treated and transported by Ambulance 1. ... (Full Story & Photos)

Boat Fire

2nd. Assistant Chief Paul Schlotterbeck, October 28

Just before 5 AM this morning units from Kent Island VFD and Grasonville VFD responded to the 1800 block of Little Creek Road for a boat fire. Engine 12 arrived to find an approximately 42' work boat well involved with exposure to an adjacent boat. Two attack lines were deployed. The fire was extinguished with only minor damage to the adjacent boat. The fire is being investigated by the Maryland ... (Full Story & Photos)

Propane Emergencies Training

2nd. Assistant Chief Paul Schlotterbeck, October 27

This past weekend the Kent Island Volunteer Fire Department hosted a training course on Propane Emergencies. The two day course was taught by instructors of HazMat IQ which is part of Federal Resources of Stevensville. The training was attended by members of KIVFD along with personnel from the Prince George's County Fire Dept. The class was a combination of classroom and hand on training with live ... (Full Story & Photos)


Fire Prevention visit to Kent Island Elementary

2nd. Assistant Chief Paul Schlotterbeck, October 22

On Friday October 22nd our volunteers made two visits to the Kent Island Elementary school. We were able to provide some fire safety education to all of the students. The students and teachers also got to see some of our trucks up close. We hope that some of the fire safety messages we delivered are practiced at home. We ask that everyone have an escape plan to include a meeting place. Teach your ... (Full Story & Photos)



Fire Fighter Russell Thomas showing students not be afraid of a fire fighter.


2021 Cash Bash

Active Member Jenn Walters, September 10

Community Notice: Tomorrow, Saturday, September 11th we will be holding our annual cash bash event. As always this is a SOLD OUT event with many attendees which will cause increased traffic in the area of the station. Please use extra caution when driving through the area. Thank you in advance.

At the completion of the event a full list of winning numbers will be posted on our Cash Bash Event ... (Full Story & Photos)


Save the Date! Open House and Public Safety Day October 16th

2nd. Assistant Chief Paul Schlotterbeck, August 19

The Kent Island Volunteer Department is planning an Open House and Public Safety Day on October 16th from 10 a.m. until 3 p.m. Plan to see not only our fire station and equipment but other first responders and their equipment, learn fire safety, stop the bleed, CPR and other safety and prevention topics. Come out and meet the first responders in your community. Check back for more updates.... (Full Story & Photos)

Your feedback is important to us! Feel free to sign the guestbook.